The IINH Geological Collections are divided into three main sub-collections:
The Mineral and Rock Collection
The Fossil Collection
The Drill Core Collection
The Mineral and Rock Collection and Fossil Collection comprise about 37,700 items. These collections are stored at our location in Garðabær. The Drill Core Collection comprises approximately 37,000 m of drill core samples and is kept at Breiðdalsvík. 
Mineral and Rock Collection
The IINH strives to maintain a comprehensive collection of all known Icelandic rock and mineral species from various geological formations. The IINH Mineral and Rock Collection also includes samples of rocks and minerals that have been used for industrial purposes in Iceland and some rock and mineral artefacts uncovered in archaeological excavations. This collection is the basis for various types of research on Icelandic rocks and minerals. It also provides a supply of specimens for exhibition or educational purposes with short notice. As of the end of 2020, the Mineral and Rock Collection comprises a little less than 28,900 items.
IINH employees have been very active in developing these collections and acquiring samples. Public institutions have donated a considerable number of samples, the University of Iceland in particular. Donations have also been received from private individuals. The largest donations to the collection from the time that the Icelandic state assumed responsibility for its operation are the mineral collection donated by Axel Kaaber in 1989, which contained a total of 950 samples, and a giant amethyst from Brazil, also donated in 1989 by an Icelandic insurance company, Brunabótafélag Íslands. Most rock and mineral samples from outside of Iceland have been bought or traded for Icelandic samples.
The Strunz and Nickel Classification System is used for organizing and classifying minerals, while Tröger's system (1969) is taken into consideration in organizing rock species.
An accessible and well-organised collection facilitates research on individual mineral species and rock types. In some cases, research would not be possible without the existence of the collection, as specimens of good enough quality are no longer available in nature or would be prohibitively expensive to obtain. Several dozen specimens are loaned out every year for research or display. The Mineral and Rock Collection is catalogued in the IINH geology database (not currently available online).
Fossil Collection
The IINH Fossil Collection includes fossils from nearly all known fossil sites in Iceland. It also holds some foreign fossils. The Originals is a separate division within the fossil collection, which holds Icelandic fossils that have been used in published material. The fossil collection is important for studying the palaeoenvironment in Iceland. For example, there is a collection of fossilised leaves and fruits of tree species that grew in Iceland in the Miocene and Pliocene epochs (5–15 million years ago) but are now only found in warmer climes.
As of the end of 2015, the fossil collection contains around 8800 specimens, all of which are registered in IINH geology database (not currently available online).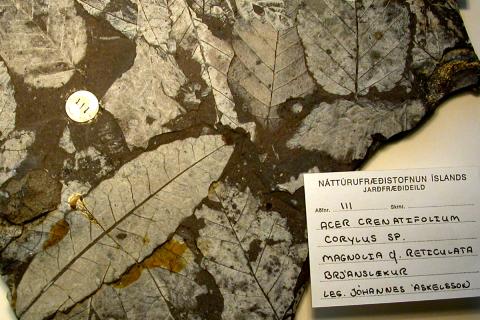 Drill Core Collection
The Drill Core Library of the Icelandic Institute of Natural History comprises over 40 km of drill core and a considerable quantity of drill cuttings from both drilling projects, both scientific and applied, conducted all around Iceland. Drill cores and cuttings enable us to examine bedrock that is not exposed at the Earth's surface, making them essential for geoscientific research, both academic research and applied studies in service of construction projects or the utilization of natural resources. The Drill Core Library's collections include cores from research drilling in Surtsey in 1979 and 2017 that sheds remarkable light on the island's post-eruptive evolution, as well as a 2-km core from a research drilling project in Reyðarfjörður in 1979. The Library also includes a substantial number of cores that were drilled in relation to tunneling projects, construction of hydroelectric power dams and other energy research.
The Drill Core Library is preserved in Breiðdalsvík and operated in collaboration with the University of Iceland's Research Centre in Breiðdalsvík. The collections are recorded in the Institute's database. Those who wish to request samples from the collection for research or are interested in contributing drill cores or cuttings to the collection are encouraged to contact the Drill Core Library supervisor.