The Drill Core Library (DCL) of the Icelandic Insitute of Natural History comprises over 40 km of drill cores and large quantities of drill cuttings from scientific and applied research drilling throughout Iceland. Drill cores and drill cuttings enable us to examine those portions of the bedrock that are not exposed at the surface. They are essential sources of data for geoscientific research, both fundamental research and applied studies for construction or utilization of natural resources.
The DCL includes cores from research drilling in Surtsey in 1979 and 2017, which shed remarkable light on the inner evolution of the island after the eruption, and a core from a 2 km-deep  research borehole in drilled in Reyðarfjörður in 1978. The collection also includes a vast array of cores drilled in connection with the construction of tunnels and hydroelectric power plants and other research on energy resources.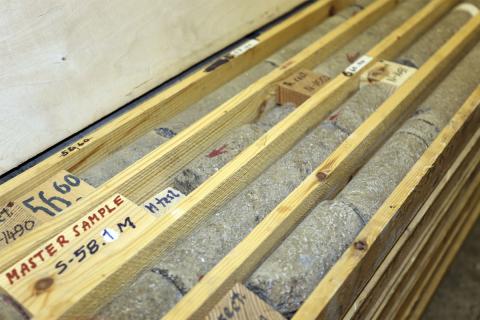 Infrastructure
The Drill Core Library is stored in Breiðdalsvík, East Iceland, in a 990 m2 building in the heart of the town. A laboratory is currently under construction, with equipment for logging, photographing and sampling the cores.
The DCL is operated in close collaboration with the University of Iceland's Research Centre in Breiðdalsvík. The curator of the DCL is also a project manager at the Research Centre and guests who use the research facilities at the DCL can have access to office space at the Research Centre.
Database
The collections of the DCL are recorded in the databases of the Icelandic Institute of Natural History. Most of the drill core catalog can be viewed in the institute's geological map viewer. The same data are available through a WFS service (see instructions for accessing them using the open-source software QGIS).
Sampling for Research
Samples of drill cores and cuttings can be taken for research purposes. Such sampling is governed by a sampling policy whose aim is to ensure balance between the utilization and preservation of cores and cuttings and increase the preservation value of the DCL collections.
It is also possible to borrow larger portions of the collection, such as entire drill cores, for teaching, research, or other specialized projects. Such loans are governed by the Icelandic Institute of Natural History's loan policy .
In order to request samples for research, please contact the curator. Once a sample request is approved, you are welcome to come to our facility to conduct sampling. DCL staff can also conduct the sampling and ship the samples to you.
Accessions and Contributions
The Drill Core Library can receive cores and cuttings for accession into the collection. Those wishing to contribute accessions to the library are encouraged to contact the curator.