Iceland's birdlife has long been the subject of interest. A total of 75 bird species regularly nest in Iceland, and a number of others occasionally choose to breed here, although they have been slow to establish themselves permanently. Some Arctic birds spend the winter in Iceland but nest at more northerly latitudes. Iceland is an extremely important stopover for geese and waders migrating between breeding grounds in Greenland and Canada and wintering grounds in Europe. Vagrant birds also pass through Iceland, arriving both from the west and east. Vagrants and passage migrants are seen mainly during migratory periods in the autumn and spring. Sightings of around 400 bird species have been confirmed to date, of the approximately 10,500 known bird species in the world. This figure is constantly rising, as new species are spotted in Iceland every year.
Iceland does not have a species-rich avifauna in comparison with many other locations worldwide, but it is in many ways unique. Iceland is home to very large seabird, wader, and waterfowl populations. Some populations are so large that a significant part of the entire world population for the species in question is found here in Iceland.
A total of 121 important bird areas (IBAs) of international significance have been identified. Most (70) of these sites are seabird colonies. The better part of 15 Icelandic seabird populations nest at these 70 sites, out of a total of 24 seabird species in Iceland. Around 25 IBAs are primarily composed of rocky coast and adjacent shallow marine waters. This natural habitat is important for migratory birds and species that overwinter in Iceland. Just over 30 IBAs are located in wetlands and other inland areas. Most of these areas are characterised by the presence of fens, lakes and rivers teeming with life. Nearly all are important as breeding sites. Various waterbird species also stop at these IBAs in spring and autumn, and some moult at these sites. Several spring areas are also important wintering sites. The number of important bird areas for each bird species varies greatly. The northern fulmar (Fulmarus glacialis) has by far the greatest number: 38 seabird colonies.
Research on Iceland's birds and bird populations is an important part of IINH operations. Bird monitoring takes place at the IINH, as do studies on the population ecology of bird species and migration patterns.
Bird ringing began in Iceland in 1921 and has been a key tool in most research projects.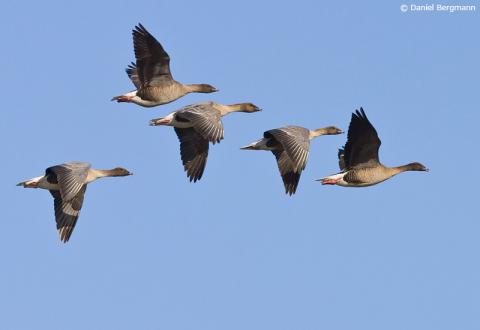 Sources
Guðmundur Páll Ólafsson 2005. Fuglar í náttúru Íslands, pg. 80–85 and 320–332. Reykjavík: Mál og menning.
Ævar Petersen 1998. Íslenskir fuglar, pg. 27–31 and 288–289. Reykjavík: Vaka-Helgafell.